Some things are painful to blog about... but in the interests off full disclosure, and because we are all friends here, and hey, just to serve as a cautionary tale, I will regale you with the disaster that came to be known as 'Mike's Secret Christmas Sweater'.
I have a very supportive husband. He not only tolerates the yarn habit, but against what surely must be his better judgement, he actually encourages it. He likes to ask about my stash yarns and what my plans are, he notices when I make progress, he takes pictures of me cavorting in a park while onlookers stare; in all a pretty good setup.
So, I wanted to repay his many kindnesses with some wooly interest: a sweater. He has lots of socks, even a scarf (oh how I despise knitting scarves) but never a sweater. Jamesey is on the needles, officially, but it might be nice for him to have a sweater some time before he retires.
First problem: I wanted it to be a surprise. Second problem, I only had a month before Christmas. Third and greatest problem: Mike is a very very snoopy man.
Most of the year, it can be waved off as curiosity and showing genuine interest. In the month or so preceeding Christmas and his birthday, it transforms our marriage into a cloak-and-dagger flurry of espionage and occasional tantrums. I love surprising. Mike loves snooping. I wanted to knit him a sweater. It was a conundrum.
But, being me, I started anyway. I remembered his measurements from Jamesey, acquired yarn, swatched, and cast on. I spent the weekend in London with Adriana feverishly knitting (then frogging, then reknitting...) and every day when Mike would go off to school I would leap out of bed and proceed to knit until he texted me to say he was on his way home, at which time I would fly around the apartment looking for telltale green yarn bits that he would surely notice (Hey, what's this? I didn't know you had a bulky yarn in this shade.) There were a few close calls, but as far as I know he never figured it out (and if that is not the case, he ain't telling!)
Then I realized I didn't have enough yarn.
After some depressed consultations with Adriana, I came to grips with the fact that a vest would not convey my love in the same way. I decided to finish the body and wrap up the remaining skeins with a promise of eventual sleeves. I finished the neck (looked a little small?) and wrapped it all up about ten minutes before he got home from his last day of school.
On Christmas morning, he ripped open his present and immediately tried it on. It was bad. Very bad. It is a testament to knitting denial that I continued to knit a lovely ribbed and cabled sweater without any real thought to how a clingy bulky alpaca sweater would look on its intended wearer. Just trust me when I say it was bad. There will be no pictures because I am trying to get the image of that my poor husband wearing that terrible sweater/vest out of my head.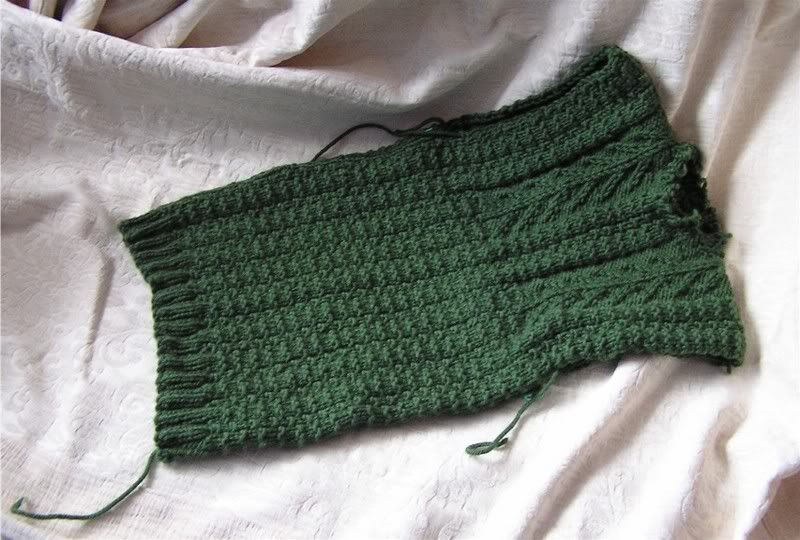 If there was anything that needed a good frogging, it was this. I finally got up the nerve and wound the dreadful mistake right onto the ballwinder. Thank goodness I had the foresight to knit it in the round! I even got smart towards the end: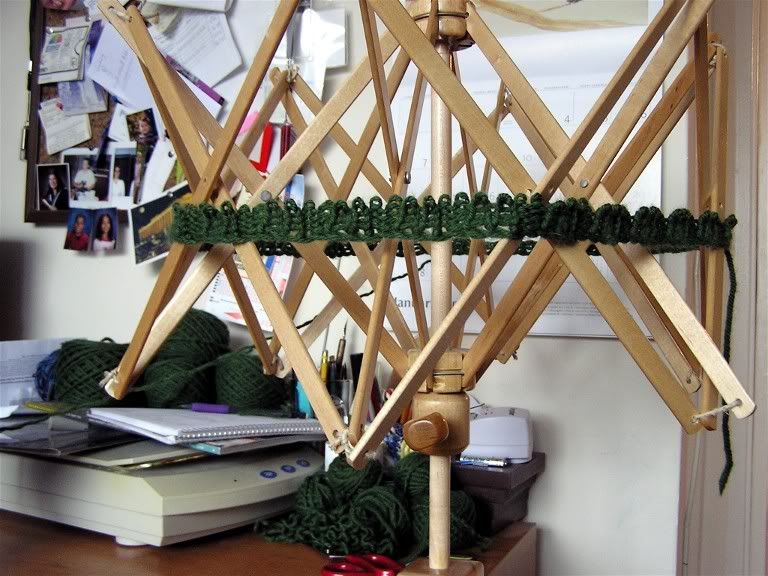 Yes, I
do
live in a sty.
Anyway, Mike is happy to get in on the design decisions this time around, and has requested cables all the way up the front, a smallish v-neck, and I am going for raglan sleeves this time.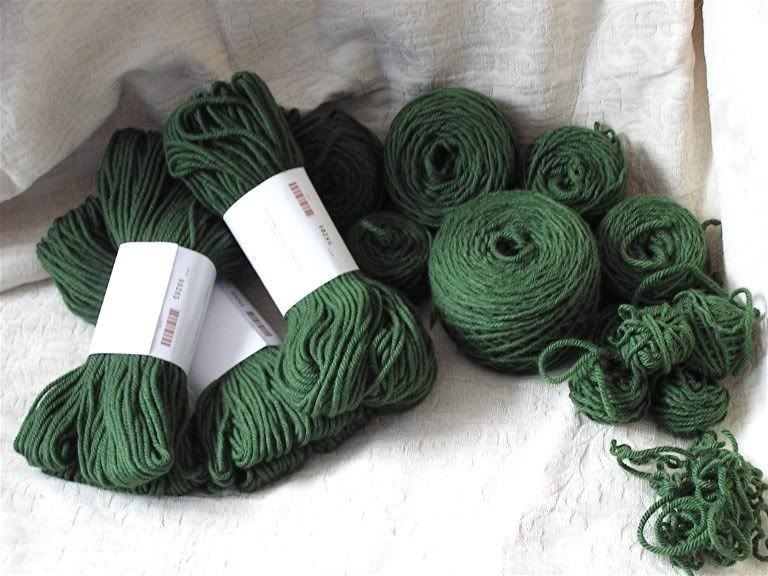 We are all set! I think I shall name it Kermit.
And in case of a necessary distraction: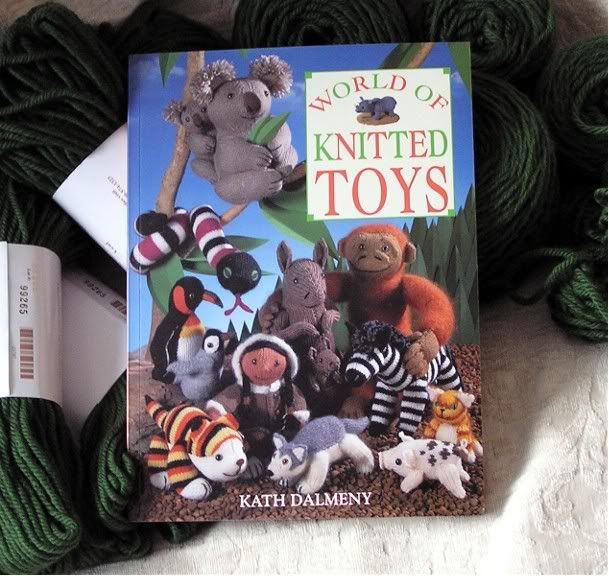 I love this book. I want to make every single thing in this book. Thank you Amazon, for your promotional coupon!