Ooops! I didn't intend such a long hiatus. I have been working hard, and I am starting to find that when I get home at night I am all communicated out. I have been working on the odd bit of knitting, though. I carry a travel mug of coffee with me to work every day so my hands are full on the way there, but on the 45 minute ride home and on my lunch breaks, I can knit. Provided, of course, that I get to sit down...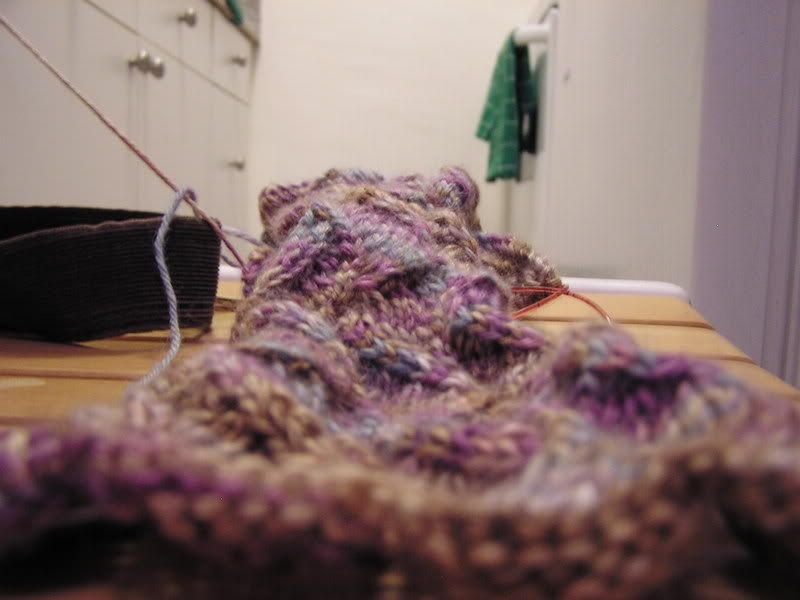 My latest project was the Ballet Lace Scarf out of Fiesta Ballet, a lovely tencel-alpaca blend. Like others, I found it a bit splitty, but manageable and well worth the trouble! You get lots and lots of yardage... the scarf pattern called for 14.5 chart repeats but I found I had nearly half the skein leftover at that point, so I kept going. I forgot to count how many repeats I got from it in the end, and it has already gone to its home at Needles and Pins as a sample, but trust me, it was quite a long scarf in the end. The pattern was easy but interesting, and even for me (a notorious scarf-hater) it really hummed along.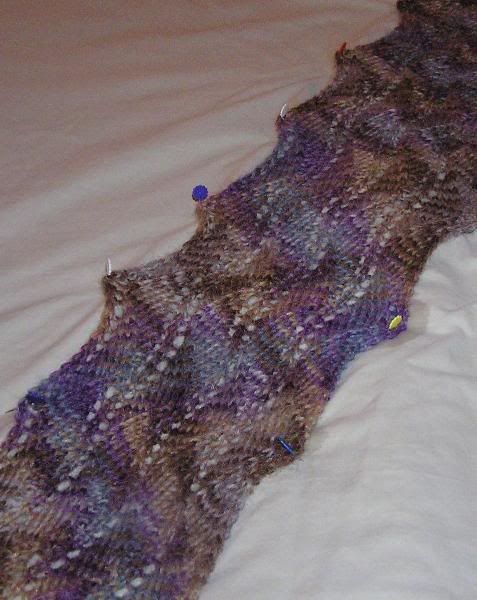 Sorry, but the scarf was blocked completely in the cover of night, so it was hard to photograph. I pinned out each point where the waving column of decreases hit the sides. This gave it a really nice waving effect when it was dry. Why yes, I
am
in fact pretty smug about it. It made its debut yesterday at the Kitchener-Waterloo Knitter's Fair...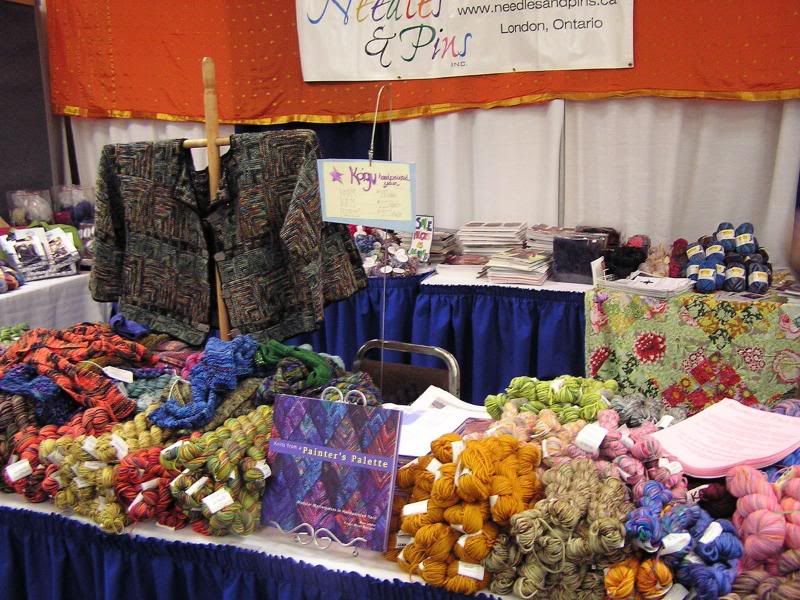 Where I was working at the Needles and Pins booth. What a crazy-busy day! Ellen got a fantastic order of Koigu in, and that always inspires a feeding frenzy. I was not immune.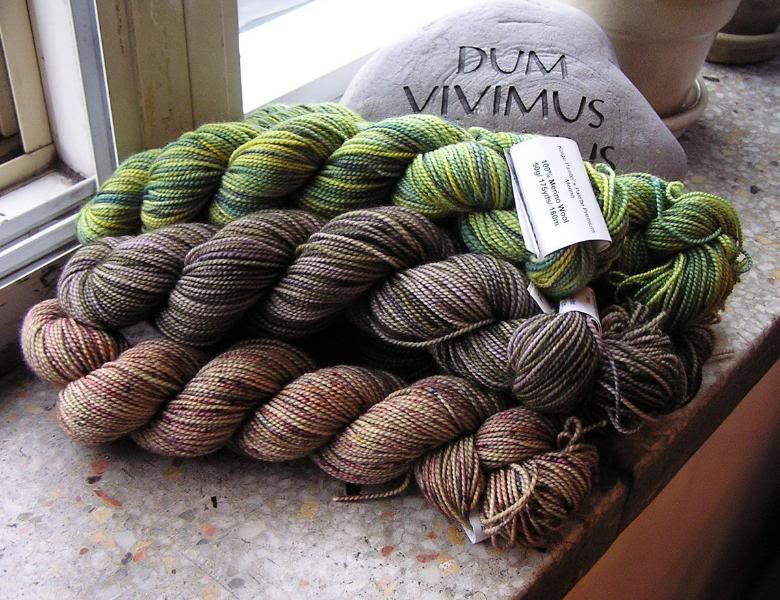 These beauties made their way home with me. I honestly can't decide which ones I love best! I am considering a
Syncopated Cap
, as I see from Ravelry that some knitters have successfully used Koigu with some gorgeous results. I just hate to break up any two-skein pairs, so we shall see what happens. Maybe some matching gloves?
In the meantime, I cast on for an early fall sweater for me. I picked up this fantastic
Handmaiden Cap Sleeve Top
kit for a song awhile back, and have been thinking of it ever since.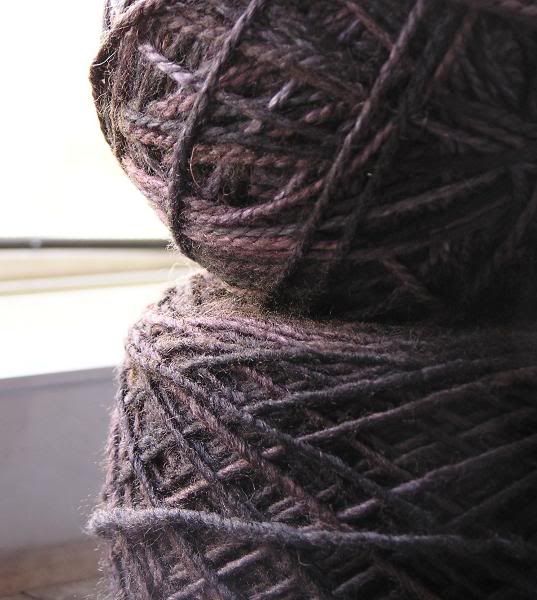 It is knit with alternating rows of Silk Maiden and Lady Godiva. I tried and tried to take a picture that would show you how freaking soft and deep the colour and texture is, but until you can reach out and feel through the monitor, you are stuck with these pictures instead. Needless to say, I am in love. It is knit in one piece in the round, so it will only make decent commuter-knitting for so long, but I am loving it at the moment!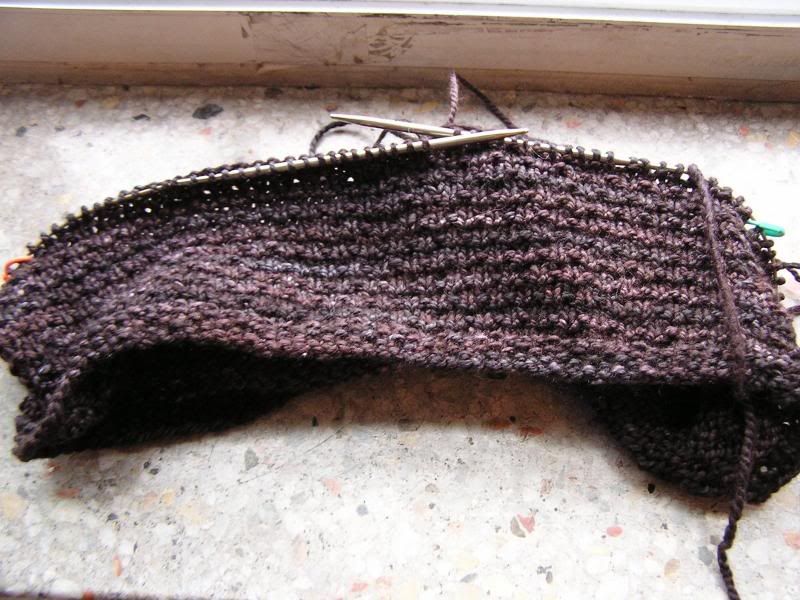 The textured stitch pattern is simple and quick, but amazingly effective with the soft silk/wool blends.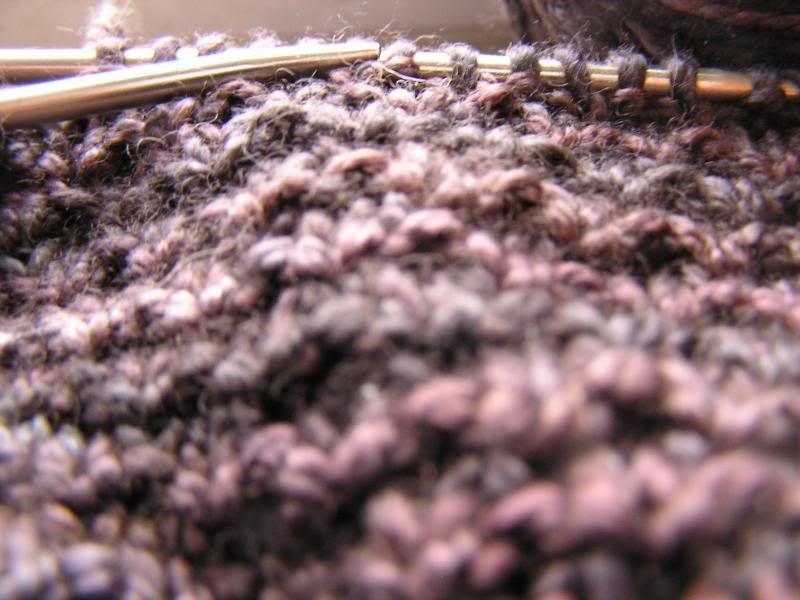 So firm and pebbly!
And finally, photographic evidence that there is a coherent conspiracy among the squirrels of Toronto to acquire our fibre through any means necessary.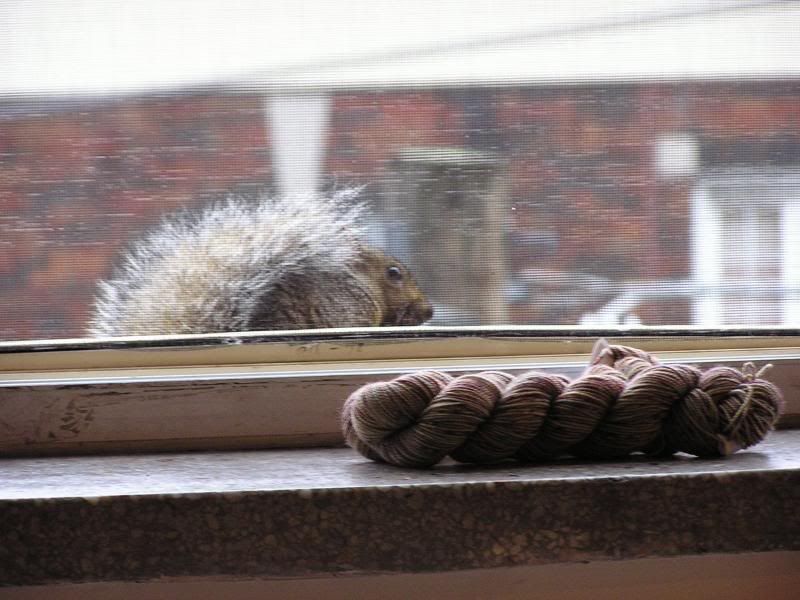 You can look, buddy, but you CAN'T TOUCH!