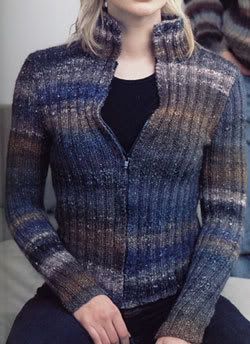 York is my perfect storm of 2006. A convergence of many separate events resulted in a very pleasing cardigan.
First, on a visit to the yarn store, a shipment of Noro had just arrived, with new colours, even! I did something I had never done before, snap up a bag of Silk Garden 247 without any real thought to what I would do with it.
Then, a month or two later, my birthday present from Vancouver arrived, including a much coveted copy of
Noro Knits
.
Finally, while Jane was visiting in the summer (a very unknitty summer with lots of work and not so much free time) I very lazily cast on for a swatch, and proceeded to miraculously get gauge on the first try on 5mm needles (usually I would have tried with 4mm first, as I am a loosey-goosey knitter, but the lazy won out and the 5mm bamboo circs were sitting on the coffee table)
Then, having nothing else to grab when we moved to Toronto, I cast on for the back, and nearly finished in two days of driving back and forth.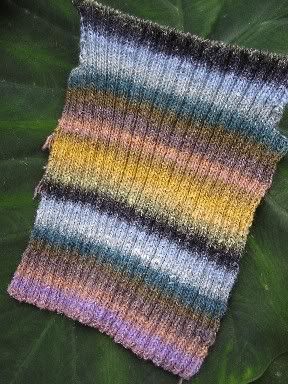 That percolated in the WIP basket for awhile while we unpacked and settled in, and eventually i knit the two fronts (at once). I cast on for the sleeves immediately, and the frogged them both after three inches. Then it sat for months.
I took it out the week after Christmas, and slowly eked away at the first sleeve, knitting two inches or so a day. I just don't knit as much at my parents' place, I guess there is too much else going on.
Finished the first sleeve on and after a very stormy drive back to Toronto last night.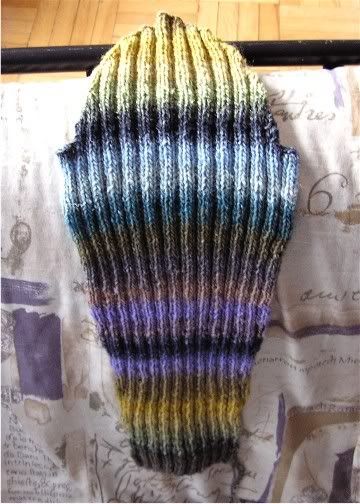 I cast on the second sleeve immediately, and in about three hours (including watching the
Yarn Harlot
on Newsworld) I got through the increases, and am ready to knit straight for awhile while we run errands around the city.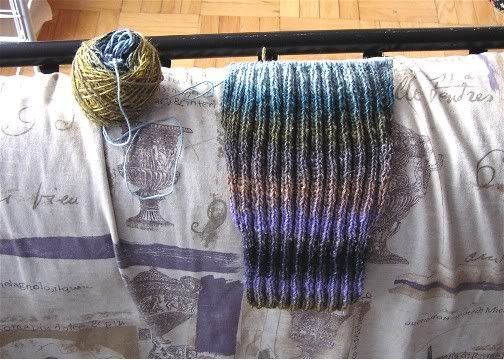 I am planning on finishing the second sleeve today and blocking it tomorrow. Then the sewing begins! The only thing then standing between me and a wearable cardi will be a collar and one measly zipper.
Wait, did I say zipper? *gulp*