Spring does crazy things to a person. It takes those ideas that flit through your head in the wee hours and makes them pop up where you least expect it... like on your blog!
I am feeling the revival of my knitting mojo. I finished the second trekking sock this morning, they only need to be grafted now. All that plain stockinette got my knitting fingers twitchin'. I suspect that a long line of tricky projects requiring far too much fiddling and calculations sucked the joy of knitting right out of me. Three log cabin squares and two stockinette socks have reminded me that it is a pleasure to follow a pattern sometimes.
Also, I had a look at my New Years Knitting resolutions and noted that I have only finished one sweater this year, and that was York, which I had started last August! Clearly though my yarn diet has stayed on track (though that truly pains me today) I have not been honouring the spirit of the yarn diet, and that is knitting some sweaters with the yarn I have been pack-ratting.
So, thanks to a heady mix of spring fever and stock-piled wool fumes, an idea has bored its way into my head.
Spring Sweater Surge!
Starting today, March 12th, I will knit one sweater a month for three months. On June 12th, I will have three new sweaters.
Month One: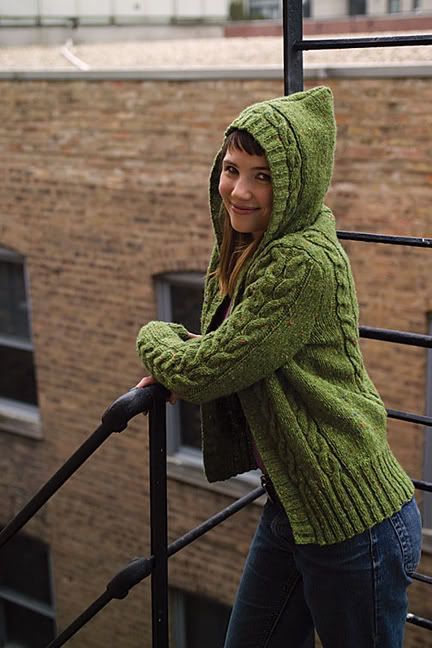 Central Park Hoodie. I have lots of Selkirk in a true red colour that will do nicely for this. It is not very soft, but neither is the yarn called for, so it ought to work out well. And if I finish this first, it will do nicely as a spring jacket stand-in.
Month Two: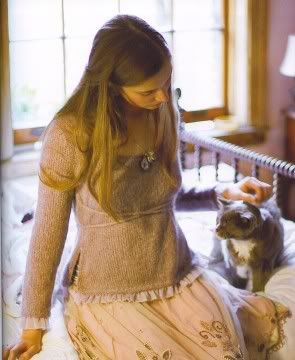 Greek Pullover in Rowan Kid Classic: I will enjoy picking out the organza for this one! After cabling for the first month, plain stockinette will possibly be a relief?
And finally,
Month Three:
Salina, in Rowan Felted Tweed. I saved the smallest gauge for last, but if it is already stiflingly hot by June, Felted Tweed might save me.
Now, I hope to celebrate some mini-milestones along the way, but if all goes well, I will be celebrating June 12th more than usual!
So. Am I crazy? Crazy like a FOX?
(edited to replace the teeny-weeny Greek Pullover picture with one that you can actually see)