I haven't got too much done since my last post, but I have been creeping along on Evie. It has been a somewhat busy week, though the next few promise to be fairly hectic too. I am at the neck shaping of the first piece, and since the second piece is identical, it should be a fairly simple thing to get done. I have been engaging in a bit of much needed spring cleaning as well, and Adriana (along with dozens of bloggers out there) is trying to melt my brain by throwing pictures of gorgeous quilts at me.
In the meantime, I was pondering buttons. I almost forgot that Salina calls for four buttons (I could have sworn it was more) on the lapel. I went through my button stash (this is not a big stash, but I have accumulated a few nice pieces). These are the only buttons I have that are in the right size range.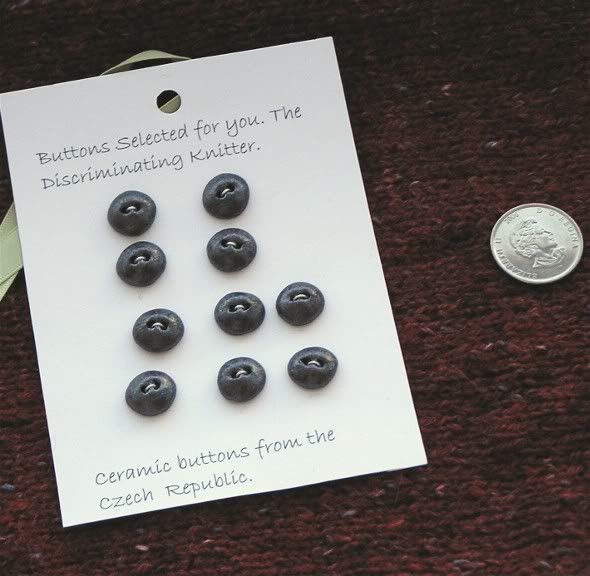 (that's a quarter, for scale)
Courtesy of Rosemary, for my graduation last spring. I tried to capture the colour, but without a cloudy sky, there wasn't a lot of ambient light for picture taking (not that I am complaining about the gloriously blue sky!). The buttons are dark charcoal, almost like hematite, with the same gentle sheen as an oil slick on a puddle. They are mostly matte. Now, in this picture the red of the Felted Tweed is not quite right, so here is a better look at yarn colour: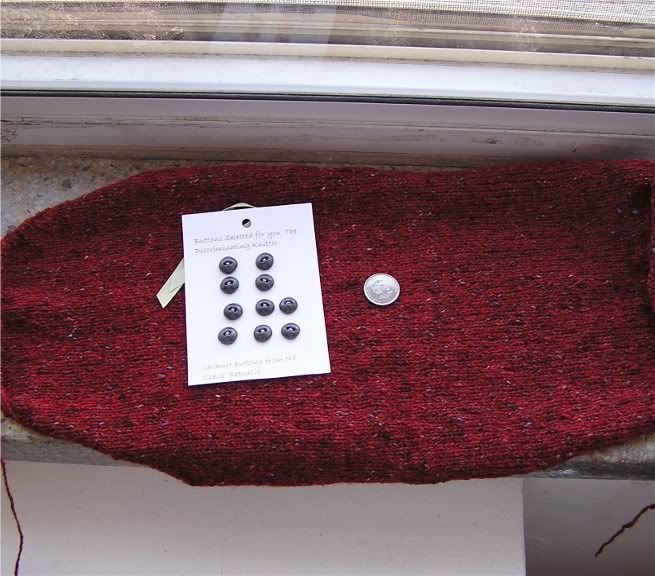 Are these the right buttons? I really hate to break them up to only use four out of ten, so I am inclined to keep my eyes out tomorrow when we hit Queen Street West for unrelated purposes. Any comments? Suggestions?