So it's April 12th. End of the first sweater deadline, and you are just going to have to take my word for it that the Central Park Hoodie is done! In the bustle of packing up on Easter Sunday we left the cord for the digital camera at Mom and Dad's. We went and picked up a replacement at Staples, but discovered that our camera "only" takes a special brand of ($50) cord. Rather than open the new cord and chance it, we are taking it back. Mom was kind enough to mail our cord to us, and we now know to keep it very close!
In the meantime, you will have to use your imagination!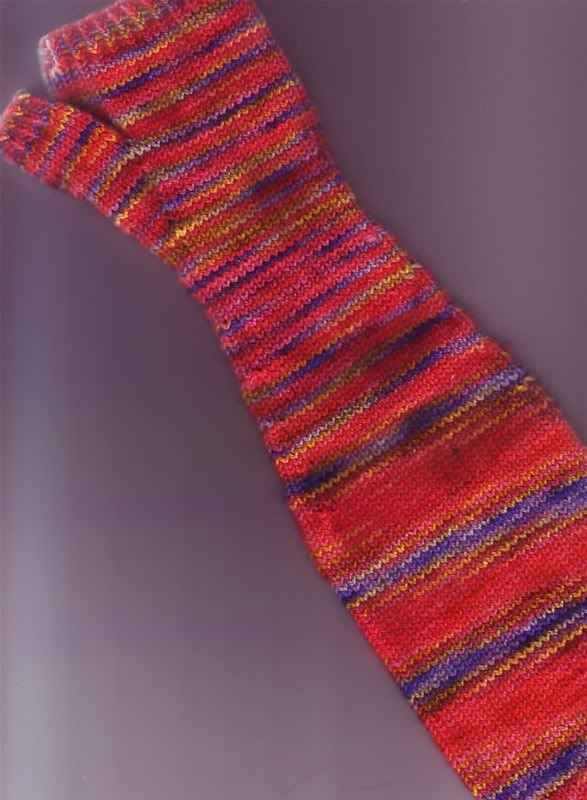 Knitwear just doesn't scan well. Have any of you ever seen Koigu flash like this?? I like it, I just hope the other skein does the same. I am almost up to the wrist decreases on the second gauntlet, but I have to wind the next ball before I can get back to it.
Instead, I have been working on a new project!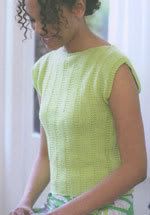 This is Evie, a design in the Debbie Bliss
Pure Cotton/Stella
book. I am knitting it for my home LYS (where I worked for two years) in London Ontario,
Needles and Pins
. So far I have successfully swatched and knit five inches or so for a front (or a back... they are identical). The Stella is so soft and squooshy! I am really enjoying this knit; I am a big Debbie Bliss fan.
I am working on a swatch for the next sweater, but since Evie is using my 4mm needles, I am swatching for Salina instead of Greek Pullover. And Adriana was kind enough to point me to a
Salina-along
!