Well, Adriana outed me as a yarn pack-rat. But not a repentant one... I come by my stashing tendencies honestly and I really like my stash. In fact, there are very few regrettable items, and for the most part the abundance is inspiring instead of overwhelming. I am on a yarn-diet right now, but not really because of shame but because I really really love the yarns I have bought and want to work with them before I move forward. To each their own, eh?
Instead of flashing you the entire stash (which would eat up my day and yours, as well as give some people heart attacks) I decided to showcase the yarns that have been catching my eye more than others lately... ones that are on the top of my list. Click to make the picture larger!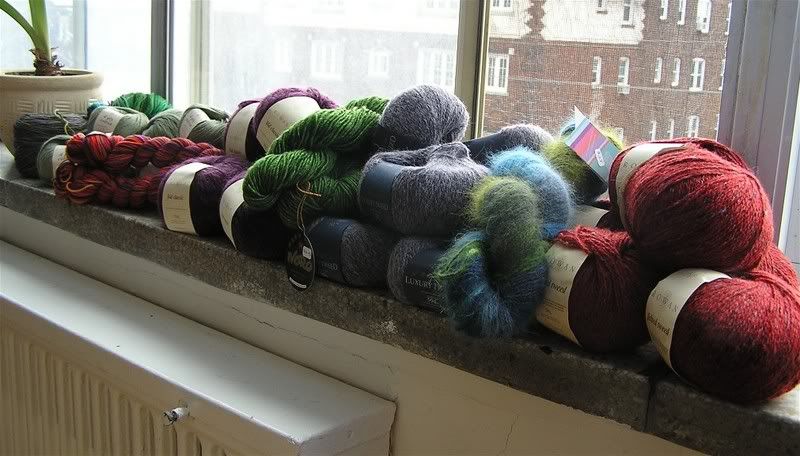 You've already met the red Felted Tweed and the purple Kid Classic, they will be sweaters before June 12th, if I have my way. The fuzzy blue and green is Fleece Artist Peter Rabbit, which is a delicious angora and has been wanting to be knit up since I bought it. The purple/grey luxury tweed beside it is a lovely alpaca/lambswool blend that needs to be made into something very special, perhaps this coming fall. The grass-green Noro Cash Iroha is at the top of my list for must knits, but I don't quite know what to use it for. I bought the two skeins for a pair of gauntlets, but I am not sure I need another pair at this very moment. At the far end is two skeins of very colourful koigu which I have earmarked for a special project, some Rowan 4 ply cotton that would love to be a summer blouse, and two colourways of Fleece Artist Merino sock yarn. One will be Pomotamus when I give my eager KALers the word, and the other had better be something special too!
So yes... I guess I have my work cut out for me. Which means I ought to be knitting more right now, but as is normal, I hit a slump during the weekend. Things ought to pick up, and I am still well ahead of my deadline for the Central Park Hoodie, though I don't want to tempt fate.
In other news, on my way to make the coffee this morning, I noticed dew on my Pothos vine: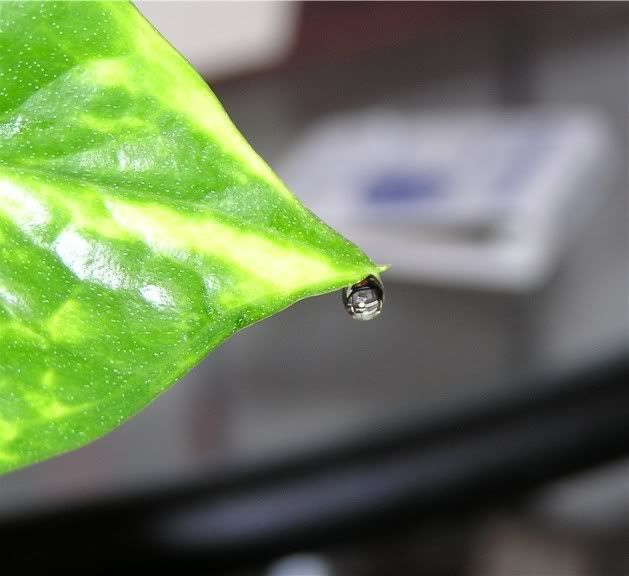 Is this normal? There were other leaves with droplets as well, perfect and tiny. They were gone within an hour.