Yes, it seems I took a little impromptu blog break. I didn't completely abandon knitting, and I did my best to check up on the blogs every so often, but I didn't have much to say, and in my defense, it was a busy busy month. I am still trying to catch my breath!
I did not finish Salina, nor am I likely to finish the Greek Pullover by June 12th, since I haven't started it. I did finish Evie, so that will have to count as my May sweater: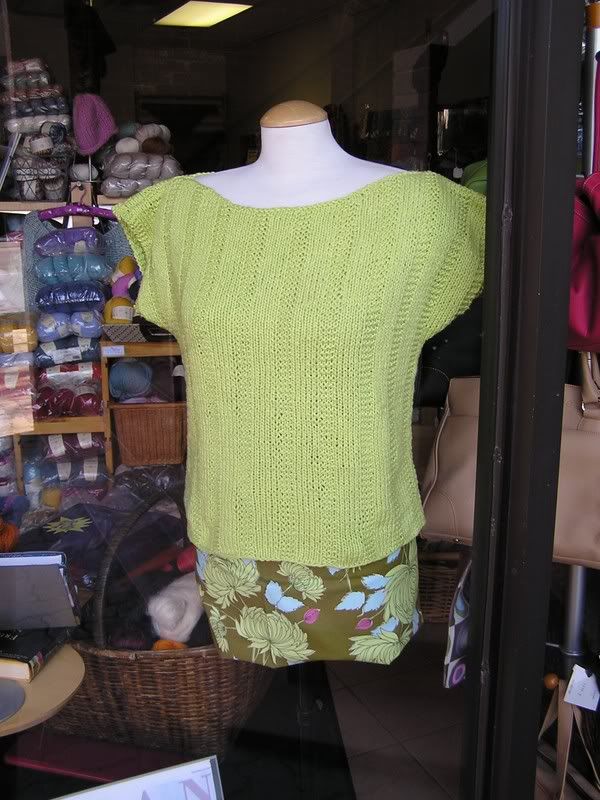 Evie!
Pattern: Debbie Bliss Stella/Pure Cotton (This is a great book! I already want to knit three more designs)
Yarn: Debbie Bliss Stella Colour 15, 7 balls
Comments: a very quick knit, very simple, but with interest. The bulky yarn really makes the knitting zip along, but the yarn is not unpleasantly heavy. The wet-blocking really evened out the stitches and gave the fabric more drape. This was a sample project commissioned by Needles and Pins.
She is already holding court in the window at
Needles and Pins
. I have to say, it was a really easy, fun, and quick project! It only took a while because I had other things on my plate and knitting projects oddly don't progress very fast when you don't touch them for a week or more.
I am pledging to do better by Amaya.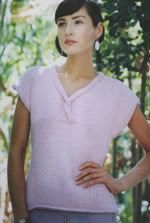 This is my next store project, and I am loving it even more than Evie! The yarn is Rowan's new Bamboo Tape, and it is absolutely luscious. The feel of silk, but the tape gives it nice elasticity. This wool adherent has found her match!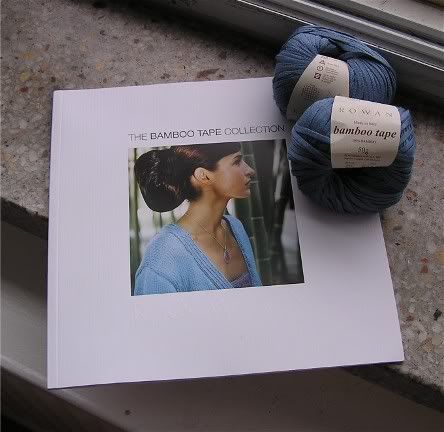 The pattern is Amaya, from the Bamboo Tape Collection. At first glance it looks as simple as Evie, but there is some really elegant shaping and a neat neck treatment!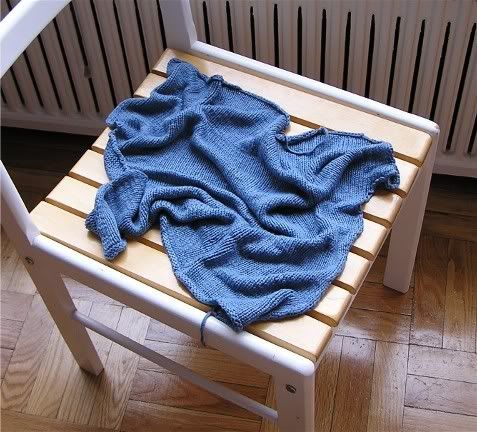 I had the back completely finished in less than two days of knitting... I could have laid it out for you to see the shape, but I wanted to portray the luxurious drape for you. It feels like you could pour it through your fingers. And since it is a tape, there is no splittiness. If my addi catches on the yarn, it doesn't catch. I think I am in love! I have the front done except for one side of the v-neck, and then the finishing (which includes the fancy next twist). I think I can have it done before June 12th, and therefore might fulfill my three sweaters in three months vow after all!
On an unrelated note: what the heck are these?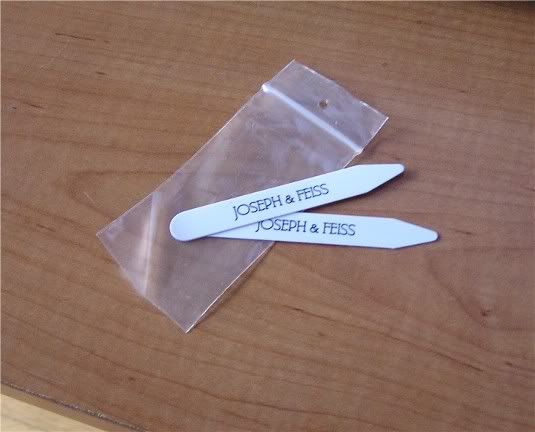 They came with Mike's new dress shirt, and similar ones came with his last shirt. I am really curious, and I feel like I ought to know, but I am clueless! Any help?