As
Rosemary has posted
, I participated in a three-way yarn swap in which we dyed yarns according to each person's request. I asked for yarns based off of Kaffe Fassett quilting cottons. Rosemary based hers off of his Dahlia Blooms, the 'succulent' colourway, and I think she is spot on!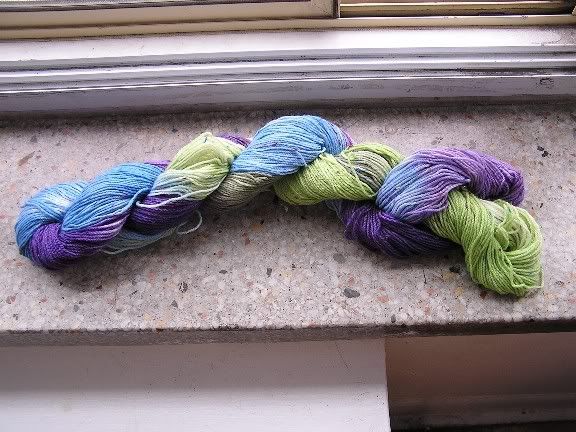 Considering I don't think I got too close with hers, I am really really impressed with her achievement here.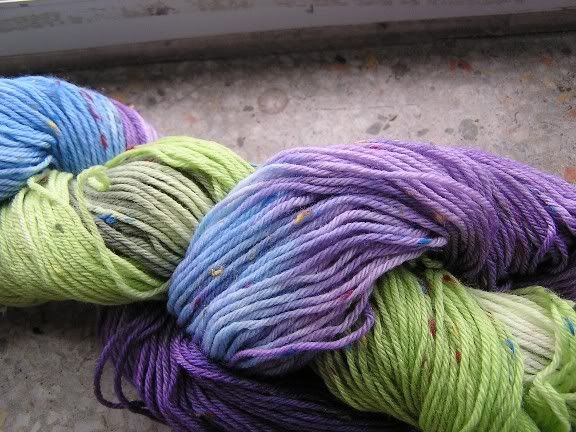 I asked for Knit Picks Donegal Tweed as the base yarn... I was curious about the tweedy flecks. I love how they work with the colours Rosemary chose! I particularly love that patch of swampy green there. I am obsessed with this yarn! I stared at it while I finished Mike's socks, and then finally, I got to wind it.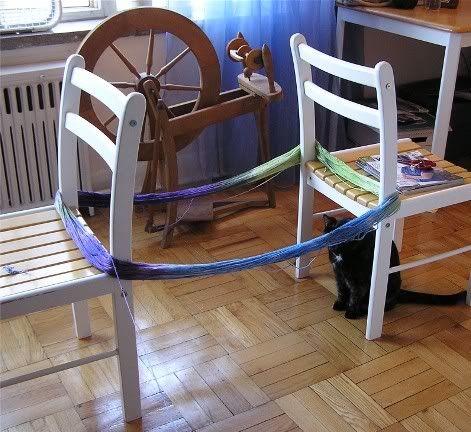 I should have waited for Mike to help me... winding this by myself was a pain! Now I feel bad for the super-long skeins I have given people. This one wasn't even that long! Molly was not very helpful, I must say, though very attentive.
I was all ready to cast on for
Coupling
, but I didn't know how the colours would show up with the lace pattern, and really, this yarn is ALL about the colour. After a huge test swatch to see how things would land, I just cast on for a plain sock, and spiced it up with a picot hem. I must say, I could have really used a lace Addi for picking up those cast on stitches to knit the hem in. It was a bit of an ordeal with the regular Addi. The end result is very cute, though! In my humble opinion.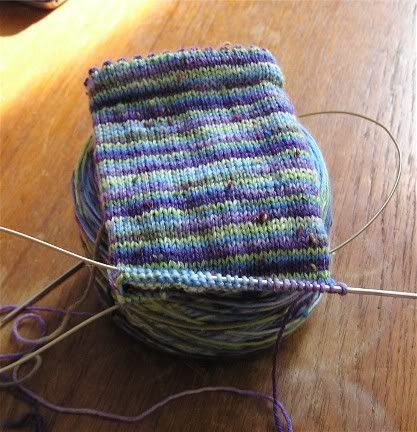 Aren't the colours fabulous?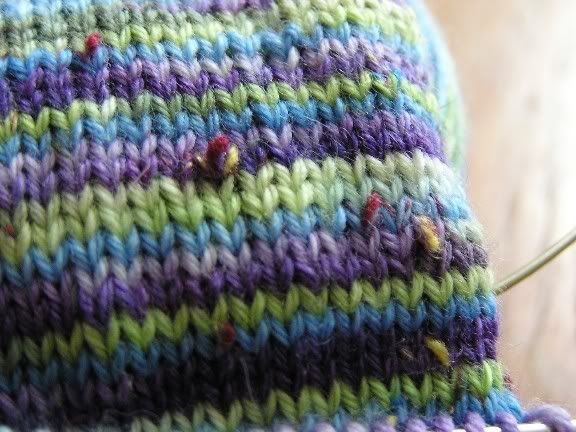 And those tweedy bits?? (Jane, you can't pull them out over the internet, sorry!)
Amaya's knitting is done, she is now very slowly blocking. It doesn't help that the city is so humid that moving around the house feels like swimming... Once she is dry, there is some sewing and a quick trim around the armholes and done!
I also have the lovely yarn that Adriana dyed for me, but it has not yet been fittingly photographed. I suddenly want to knit every nice sock pattern that I can find! Summer of the socks?
Also, speaking of the new Knitty, does anyone else love
Coachella
like I do? I just happened to notice that the gauge is appropriate for Bamboo Tape. How luscious would that be?