Not a lot of knitting being done Chez Heather, for various reasons. It's been a busy time, not the least reason being that my husband Mike formally received his teaching degree last week!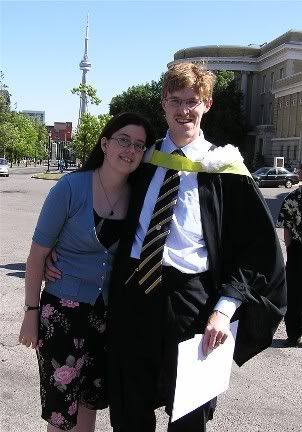 I gotta say, I enjoyed the UWO ceremonies better than the U of T one, but perhaps that is a bias. Also, the B.Ed hoods? What an awful colour? I think they are supposed to be mint green, but due to there being at least three phases of the same hood, the colour varies from mint to chartreuse to crossing-guard-neon green. But it was neat to walk out of a door and see the CN Tower staring us in the face. And now Mike is a full-fledged teacher of high school Latin! I am very glad that he has found a career that he is passionate about and went and did what was necessary to achieve it. Who knows where this will take us?
I did manage to finish the first Dahlia sock!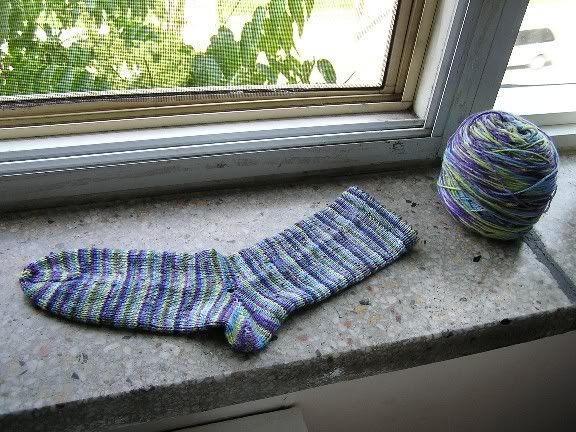 Have I mentioned that I love this yarn?
I am rather partial to the finished sock, too.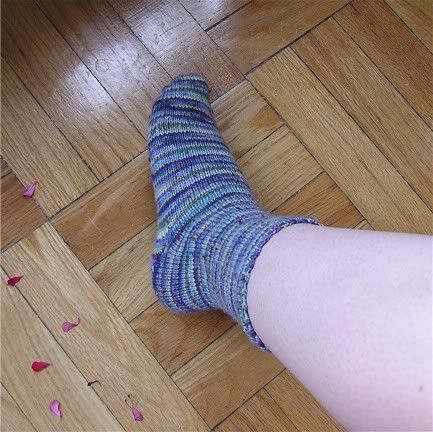 This being the first sock I have knit without ribbing, I don't find that the picot edge slouches at all. The true test will be when I wear them for a day.
I finished the sock on Saturday and seamed on Amaya for awhile on Sunday, but it has been brutally hot here and the humidity has stolen my will to live. We have an air conditioner, but we haven't installed it because as long as I can live with just a fan (a really big one) I feel like it makes up for me using the electric dryer, not composting, and all the environmentally conscious things that are difficult to impossible to do in a wee apartment in a densely populated area.
I know that some people think we are crazy, but to be honest, I have lived in Southwestern Ontario my entire life and I only have air conditioning for two summers out of that. On top of that, we have poor fuses in our apartment that I am not sure could take the onslaught of the A/C (since they refuse to accommodate the microwave AND the kettle) and we only have two small windows and I am not prepared to give one up for the summer. I do have sympathy for Mike, since before he met me, he didn't really have a working knowledge of humidity (being a Vancouver native) but he seems to have accepted the summer extremes of Ontario as well as the winter ones.
The downside of the muggy state of our apartment is that the idea of knitting seems pretty abhorrent on days like this. I might head over the air-conditioned library if it gets really bad this afternoon, so maybe I will cast something on then. On the plus side, my herbs are growing like crazy!
Oh, I got my Ravelry invite today! I was so excited that I promptly signed up and misspelled my user name. I feel like a total idiot and am waiting to see if there is anything that can be done about it before I start using it. At least I can blame everything on the heat.