First off, proof that I imanaged to block the Donegal hat yesterday. It is missing this morning, so I imagine it was carried off to brave the chills of downtown Toronto.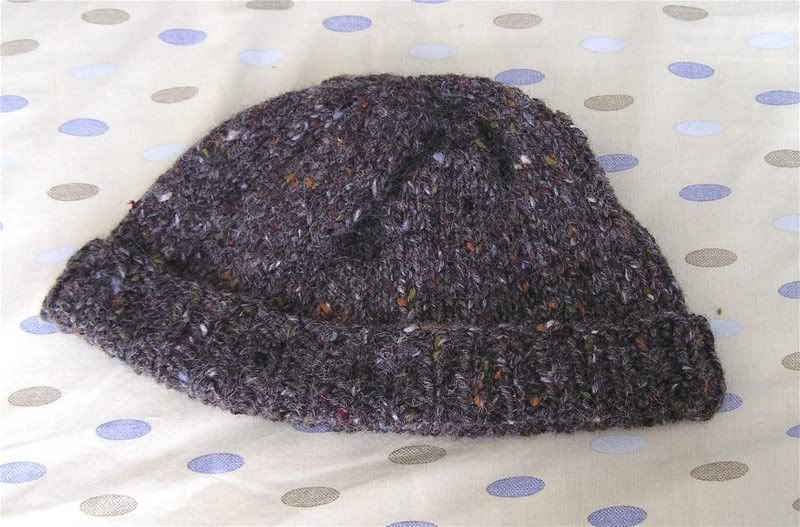 I knit it with one full skein of Debbie Bliss Donegal Chunky Tweed, I knit it top down, using
this pattern
and cast off when I thought I was going to run out. Since I was left with about a metre, I can say that this worked very well. Also, since this hat was 24 inches in circumference, and with brim unfolded can cover the nose, I can say with fair authority that there is enough yarn in one skein for any human-sized hat. I also knit it at a tighter gauge for extra warmth, so the result is a nice and sturdy hat that can stand up to our delayed but now vigorous winter.
Now, on to the crux of the post!
Since I seem unable to knit with only one thing on the needles, I had a bit of startitis the other day. Long meaning to knit a log cabin blanket, and inspired by a friend's start, I got busy and knit a square. Then I knit some more, and so on...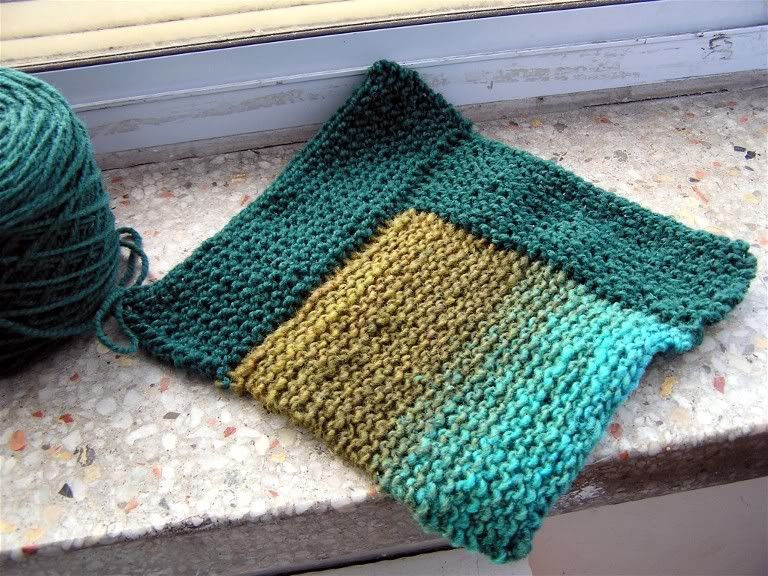 As I got to this point, I stopped and pondered. I have a bag of Noro Kureyon that was earmarked for this adventure, you see it in the middle. I wanted a blanket with potential to be as big as I wanted, so I decided to add a contrasting plain colour, cue some Ram Wools Selkirk: certainly not the softest yarn out there, but neither is Kureyon, and they are nearly identical in weight.
My original plan was something that looked like this: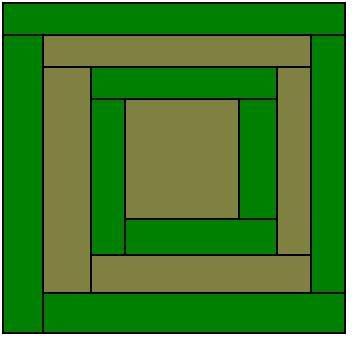 The swampy-brown representing the Kureyon, of course... it will move from bright pink to electric teal, etc. This option has the benefit of having no finite end, therefore I can stop when I run out. I have enough extra selkirk to make a border of my choice.
Of course, a quilt would be lovely... cue option 2!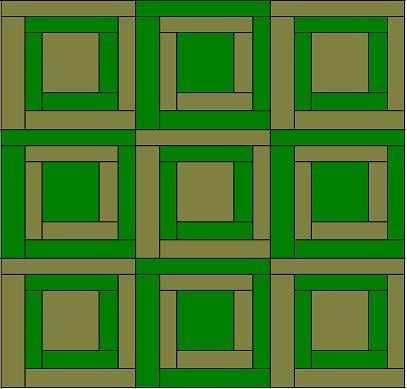 This would be stunning, no? But there is a finite end to this quilt, and knowing my luck, that end would come just after I run out of Kureyon...
Option 3: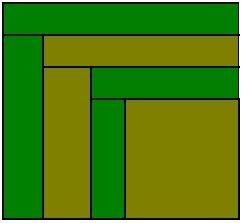 I was too lazy to make a brand new template, so you will have to extrapolate for yourself. I haven't seen one done like this, but maybe there is a reason? Maybe this blanket would be unbalanced? This one of course ends when you want it to, so no yarn shortage looming here.
This is going to be a long-term need-some-boring-garter-stitch project, no deadlines.
Any ideas? I can't promise I will stick to your advice, but I would sure like to hear what you think!