And that's a green sweater.
There is another swatch, on larger needles. Still not loose enough. I am waiting to borrow larger needles. I have no need for bigger addis than the ones I have, at least not on a regular basis. We hates the gauge, yes we do!
In the meantime, I have been at loose ends. I finished Mike's Donegal Tweed hat, it needs a good blocking, but I can't seem to snatch it away, which is a good sign. I finished that Trekking sock which was kicking around, waiting for an in-person foot fitting...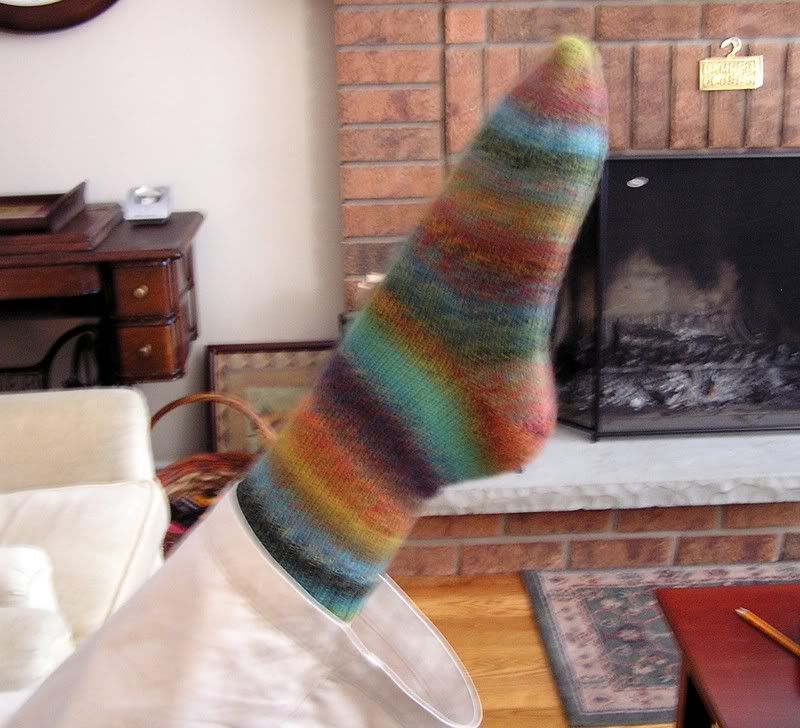 There are many pictures, they are all this fuzzy. The trekking defies photography. But they fit! I love love love this yarn. I think the next pair of socks on the needles will be a pair for me.
Speaking of socks, for a while the subway sock was the only thing on the needles so they got some attention this weekend: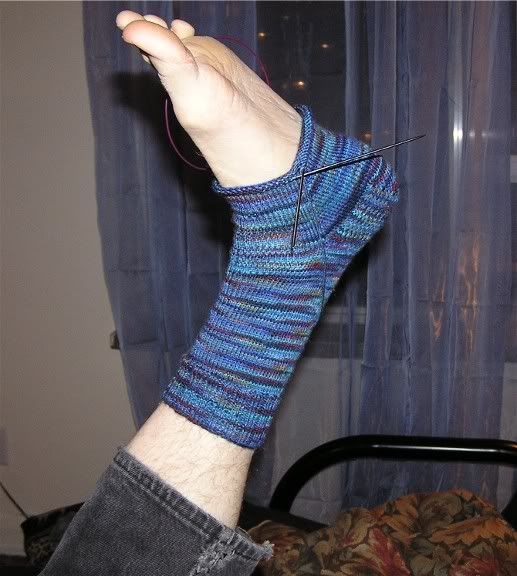 If these were for me, I would be done now! This is usually the point in the sock where I lose interest. I mean, the gusset decreases are done, right? Time for the toe... wait! I have to knit many inches of straight stockinette before I can start thinking about toes. Bah.
So I did what any self respecting knitter would do. I started a few other things, just to take the edge off from knitting with wee metal toothpicks.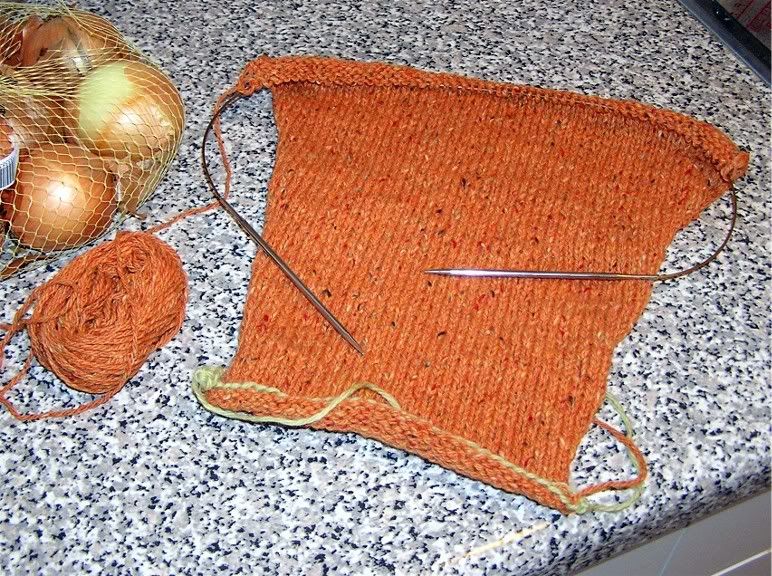 I cast on for a sweater. It occurs to me that I asked for advice on what sweater to do after Kermit, gave two options, and this is neither one. This is in fact yarn that I had completely forgotten about, acquired at clearance prices sometime last year (?). It is Gedifra English Tweed, in a delightfully creamy pumpkin coloured mix of merino, angora, and nylon. It has that same two dimensional fabric effect as Felted Tweed, but it has a recommended gauge of 16 sts, which makes it a little easier to swallow in my current apathy. And did I mention the fact that it is orange? It looks so yummy that it begged a kitchen photo shoot. What shall I name her?
I am planning a fitted sweater with a deep v-neck, as this yarn is more than delicious enough to wear against skin. I am doing the sleeves first since I have to make some measurements from my closet regarding neck depth. I also have not made any decisions regarding edgings, hence the provisional cast on. I tried a twisted rib, but it looked very wonky.
I finished something else, and started something else too, but that will have to wait for a later post.
(Oh!
The Spring Interweave preview is out
, and I for one am excited!)