I haven't started seaming yet. Good news is, the pieces are pretty much dry now. I had to take them off the bed around nine last night to ensure a relatively dry night's sleep.
Instead of cleaning my apartment or seaming my sweater, or even running my errands, I have been waffling over what sweater I want to knit next for me. Never mind that I promised my husband that his sweater would be my priority. It will still be next, but I need something to which I can look forward. A carrot, in other words.
After a session of pattern-flipping, and having consulted my to-knit list, these are the current contenders:
Rowan Felted Tweed (colour: Blaze 149) for Salina: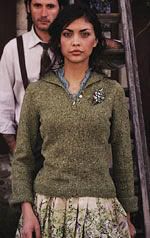 OR
Rowan Kid Classic (colour: Victoria 852) for Greek Pullover:

Any thoughts? I seem to be in a very Rowan mood today.