Today I met my first Toronto Knitblogger!
Mary DeB
and I met up for coffee at Alterknit this morning. While we chitchatted I managed to do more unknitting than knitting, but did eventually finish the second (left) front of the Central Park Hoodie. At home later, I cast on for the first sleeve while my pants dried. On an unrelated note: whoever was driving the Fed-Ex truck on St. Clair West at Vaughan Road ought to review their sense of human decency.
Rain, though, instead of snow! Today's weather was decidedly springly. Spring fever has hit my parents hard this year, as it does every year, back home. Mom starts nearly all of her own flowers at home (and flowers for many friends and relatives as well) and Dad pitches in. Today he had some stern supervision from Chicago, my childhood companion...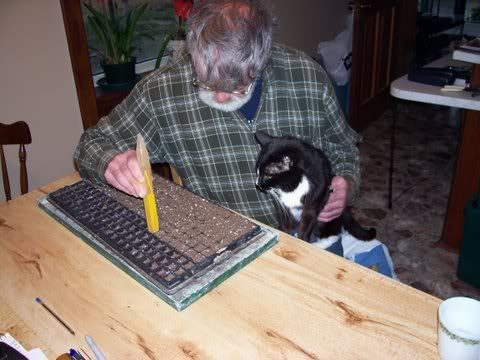 I have no idea where Molly and Phlox get it!
Interestingly, Chicago was the feline who taught me to talk 'cat'*. After I left for university, I am told that she would look for me every night, meowing. One day my young cousin remarked to my mom that the cat was saying 'Heather! Heather!'. Mom and Dad both swear that she was. I tried to take her to live with me in the city, but she is a country cat, and decided she is much happier on the farm.
Mike had a busy day as a student teacher and used up all the batteries in the camera. For now, just imagine that the second cardigan front looks appropriately similar to the first. But mirror imaged, obviously. On schedule!
*yes, I have not only admitted talking to my cat... now I have confessed that my cats

talk back

.