We are goofballs 'round these parts.
Anyway, yesterday I deigned to read the instructions before I began seaming the whole sweater, and it turns out that I only seam the shoulders before picking up and knitting the hood. This meant two seams about three inches long each. That was pretty quick work. Once I was finished that, I had to pick up for the hood. I only have to pick up 22 measly stitches since the rest are on holders, but I hate picking up stitches (if they are not neat and pretty enough you have no recourse but to frog it all and start again... I hate that!) and the siren song of Clessidra was calling me. Since I was fresh out of sealing wax and a ship's mast, I was drawn in.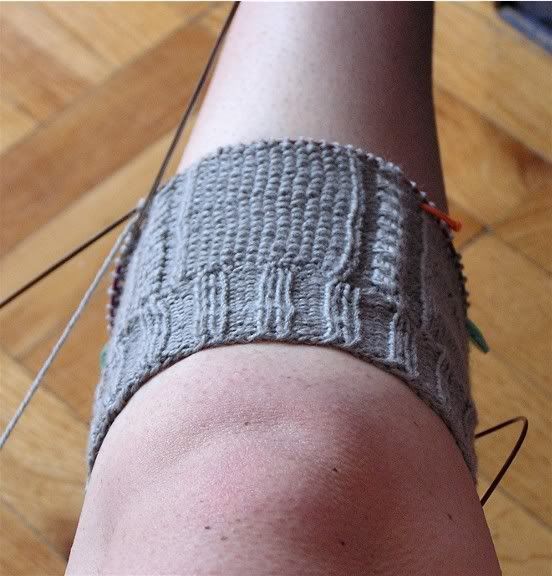 But the back of the sock is where the real magic happens. Has anyone here tried taking a decent picture of the back of their leg? Let me tell you, it requires more flexibility than I have to spare. Instead of pulling something, I eventually twisted the sock around and made the back the front: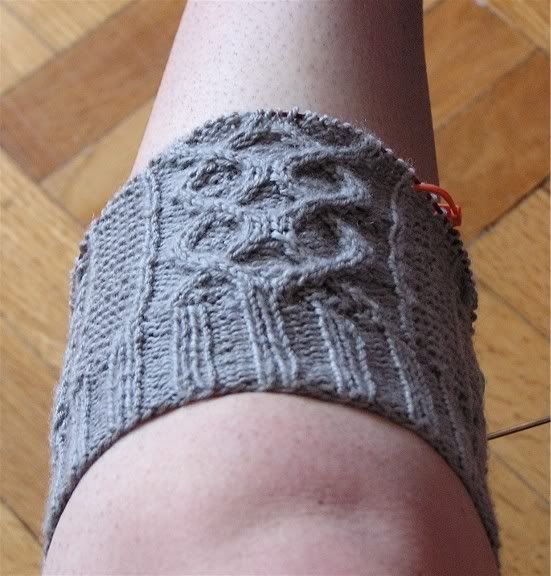 The cables look messier here than they do... I think it will need to be blocked. I am actually a bit farther than this, already into the fifth repeat of the hourglass chart, but Mike needs some action shots of him teaching, so I am restricted to pictures I took yesterday afternoon. Pardon the pasty white legs, yesterday was the first time they saw sun in months.
Just to keep some red in this post, a button query. I picked up these fantastic walnut shell buttons at the KW Knitters' Fair last year and when I was debating whether or not to use buttons, I remembered them. I think they go very nicely with the rustic texture of the wool and the deep, saturated red. My Dad's father had a thing about walnuts and walnut shells, so there is some sentimental value there, too.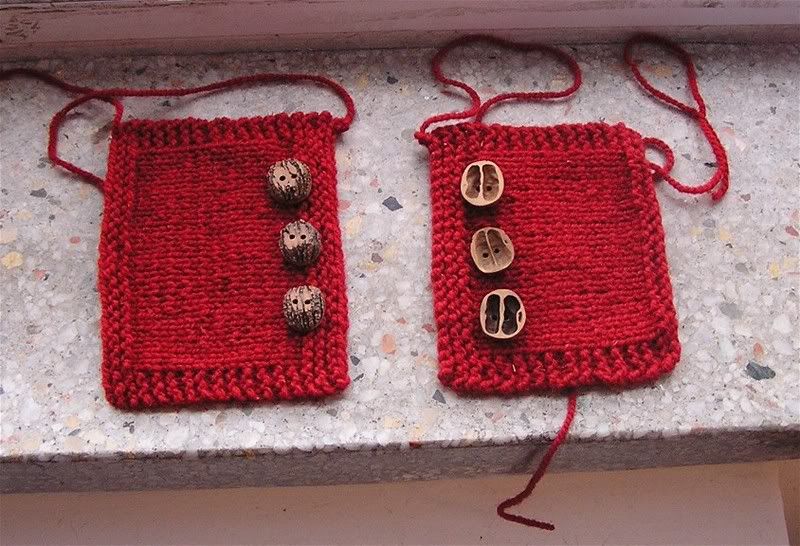 So, do I use these buttons inside down (left) or inside up (right). I love the insides of these buttons, but I have received mixed opinions on that. Another option is to leave Central Park buttonless, though I do question the utility of a warm wool sweater that doesn't close.
Weigh in, folks!
(edited to replace the blogpoll... it was causing strange things to occur! When I deleted the code the score was 5 for Down, 1 for Up. If you voted on the old poll, feel free to vote again.)