It was a weekend of good photo ops.
We took a trip up North to help a friend move. The upside was that we stayed at the friend's cottage! It was perfect weather: snowy, but clear for both drives.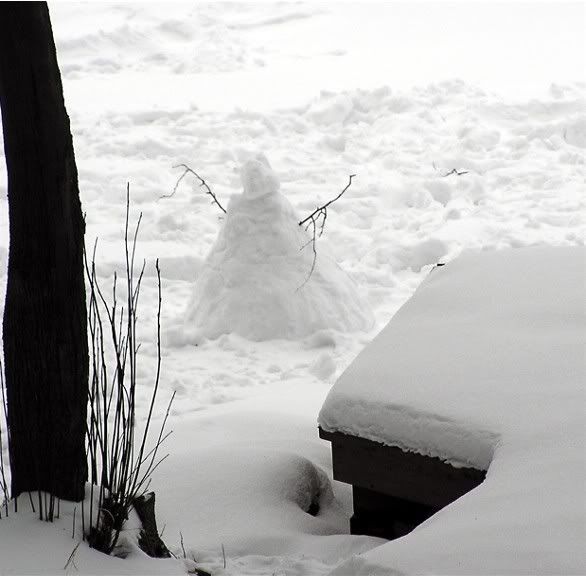 I have to confess, I had no part in the creation of this snow-wedge-person... I watched from the comfort of a comfy couch beside a crackling fire.
Speaking of which, I finished the third square of the log cabin blanket.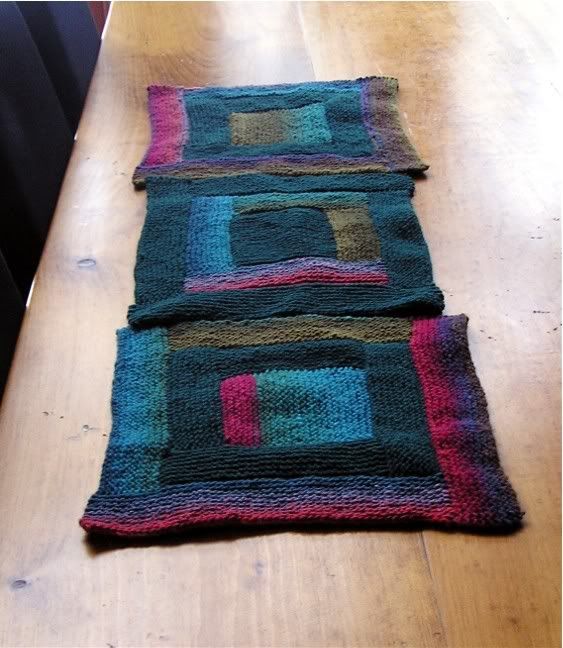 I am planning on formulating some fantastic blocking plan which will miraculously shape each square to the perfect size...
My feet couldn't wait any longer for some trekking socks of their very own, so I cast on a new subway sock.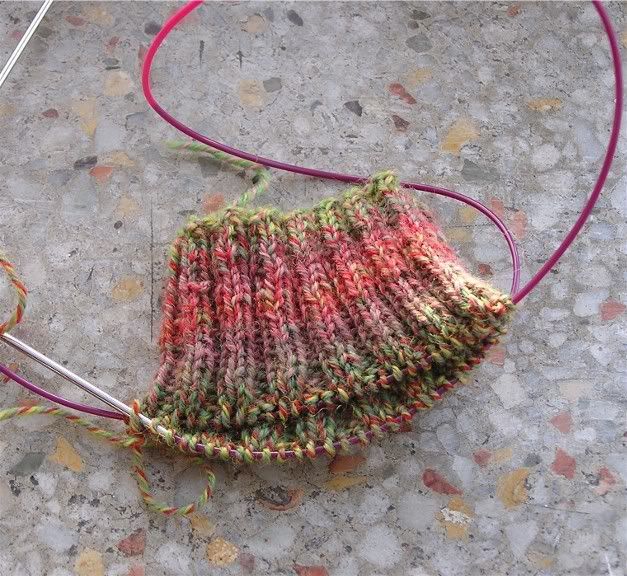 The knitpicks needles failed me again on the second row. I guess I will have to break down and email them. I hate having to complain, but I really do think they should know. And it isn't really fair to complain about the needles and give a negative opinion of them when they haven't had a chance to explain or make it right.
Before we left for the weekend, I was bummed about my amarylles blooming while I was gone, so my mom suggested I leave them in a cool dark place while I was gone. I did, and they bloomed in the bathtub instead. It doesn't really help that my apartment is never 'cool' by any stretch of imagination, certainly not by my mom's standards (hi mom!). But I didn't miss much, the blooms were in peak condition today!
In other news, I have been yarn-purchase free since December 31st (except for that one skein to finish Birch). It really isn't easy, there are so many gorgeous yarns out there! And sales! And new must-haves!! It has maybe brought some focus to my yarn lust, though. If I was to buy one skein of yarn right now, it would be Fleece Artist Sea Wool. I went to Lettuce Knit on a mission for Adriana and was therefore able to drool in its presence. They ordered 300 skeins in anticipation, and judging from the rich colours and the silky hand of the yarn I can't see that being a mistake. The one niggling point of the Sea Wool is the enclosed pattern: Bordello. From the picture on the outside it looks astonishingly like Jaywalker! I can't comment on how close the written patterns are since I was a queen of self-control and managed not to purchase any today. Any input from informed readers??
But if I am on a yarn diet, what the heck was I doing in Lettuce Knits today??
Being the kind and generous soul that she is, Adriana allowed me to live/buy yarn vicariously through her and snap up some Sweet Georgia laceweight on her behalf before it fades into extinction. The colour is Black Orchid, and if possible, it looks even better in person: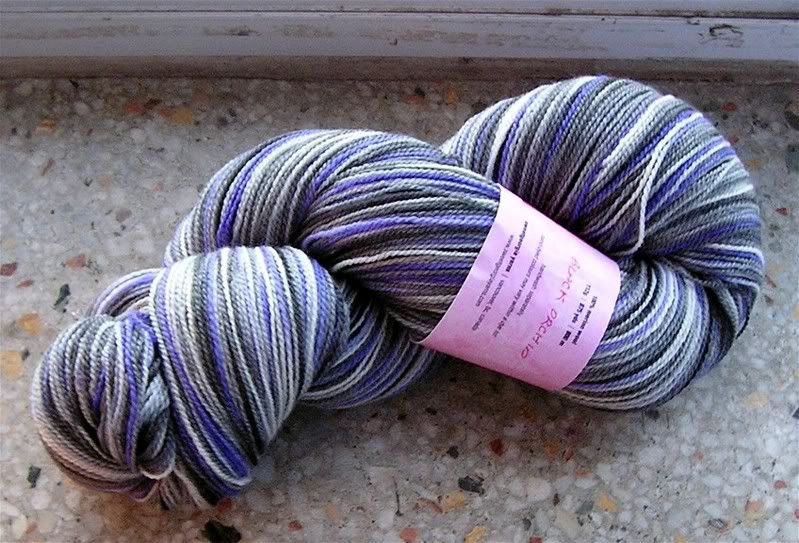 The purple is a vivid lavender/periwinkle, and the monochrome gray/white underneath just sets it off perfectly. I took about twenty pictures trying to get the colours just right, and this was the closest I got. I have got to learn to take pictures before dusk starts to fall.
Closeup!
Yum. If I was on a real diet, this yarn would be a triple chocolate cheesecake with raspberry sauce. Or a medium rare steak cooked by a certain friend's dad (he won over a vegetarian!).