I celebrated my birthday this weekend... we went out to stay for the long (Canadian) weekend at my parents' place. We caught a play on Sunday!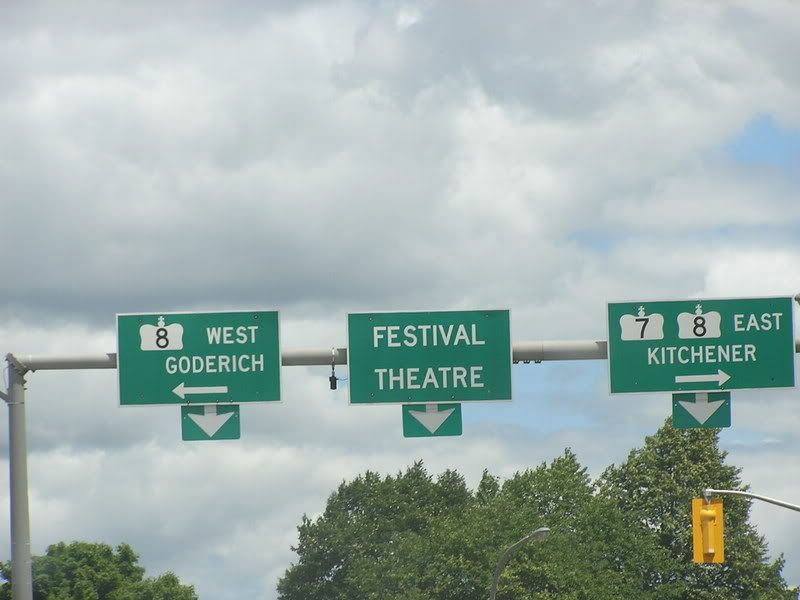 A
Comedy of Errors
at the world-famous
Stratford Festival
(I love how Stratford makes it all but impossible for even the most nervous tourist to get lost. I did about half of my driving lessons there, but I still appreciate the ample signage!). The play was fanTAStic. All Greco-Roman costumes, the backdrop and set design were amazing, and the comedy was perfect! I am not a usual fan of physical comedy, but this production had just the right amount. And, it being Canada Day, we were asked to stand for the national anthem. Mike heard a woman in front of us say 'Just like at the hockey games!'. She wasn't singing, so we guessed she was a visitor from the States. Anyway. If you have any connection with or interest in Classics, go and see the play. Even if you don't, see the play. If you aren't familiar with the plot, it is a mashup of Plautus'
Menaechmi
and
Amphitrio
. This production was set in the 50s AD, so there were even some Roman soliders for Mike.
In the theatre lounge: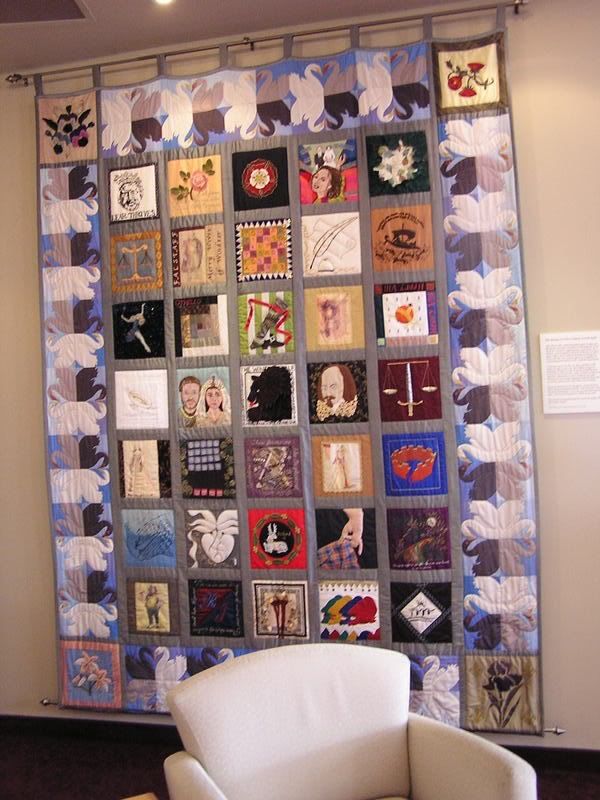 What may be one of the coolest quilts ever. Each square represents a Shakespearean play. Around the border are 140 swans. Mike and I had a lot of fun guessing each square.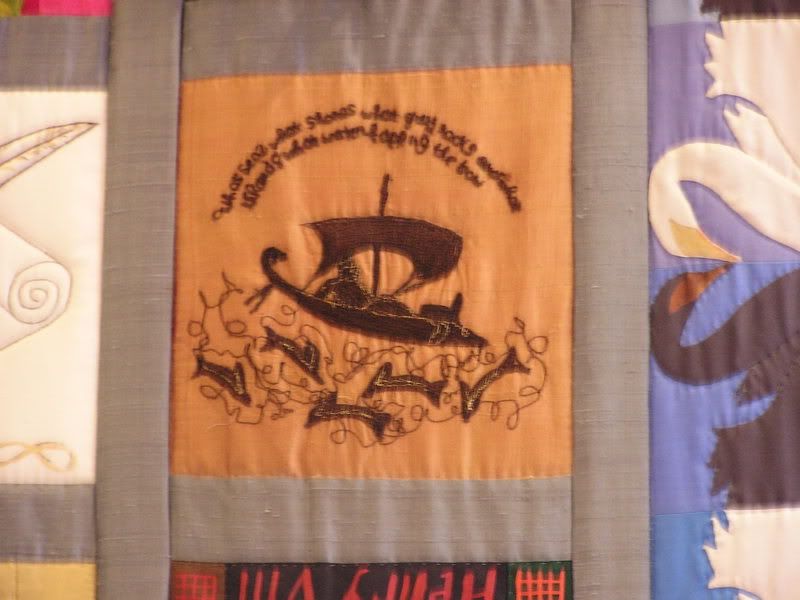 Sorry for the crappy picture. I took a few, but the lighting was dim. Is there anything neater than stumbling upon a Shakespearean quilt square inspired by an Exekias tondo? Which play do you think it is?
I finished seaming Amaya. The seaming was not as bad as I was thinking it would be. I do want to fiddle with the neck twist, though. If you are on Ravelry you can see the AWFUL picture Mike took of me wearing the just-finished garment. For the rest of you, I will get a better picture tonight.
I did manage to cast on Coachella, but that is literally all. It was a pretty knit-free weekend. Lest you think it was completely yarn-less, however:
Mike, being the wonderful husband he is, ventured into Lettuce Knits to buy me a skein of sock yarn... one I had never even mentioned to him! This is Dream in Color Smooshy, the color is In Vino Veritas. I think I am in love. It
is
a very smooshy yarn, and there is lots of it. I am thinking I will divide it in half somehow and give that toe-up recipe in the summer IK a shot. I seem to remember Mary wanted to do a knitalong. Still up for it?