It has been so long (possibly a week?) since I worked on Sizzle, or indeed, any knitting at all. Work is keeping me very busy during the day and pretty darn tired at night, and besides that, it is hard to feel the urge to knit when it is so bloody hot night and day. And when you don't knit, it is hard to get around to blogging.
It was also too warm to be a cat.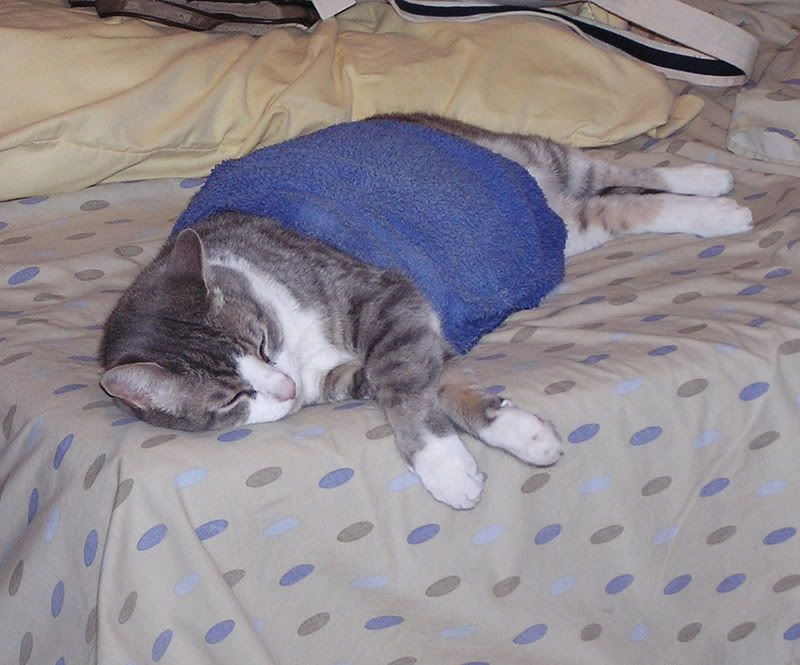 When
FabricFan
was visiting, it was so warm in our apartment that I put a wet washcloth on Phlox... and he stayed there cooling off for quite some time. Neither of the cats ever panted, they were just lethargic and slightly grumpy... just like the humans.
SpillyJane and her husband came to visit the humid wonder that is Toronto in August this past weekend, and she practically FORCED me to take her to the local yarn shops. She then forced me to get some Fleece Artist Merino Silk roving...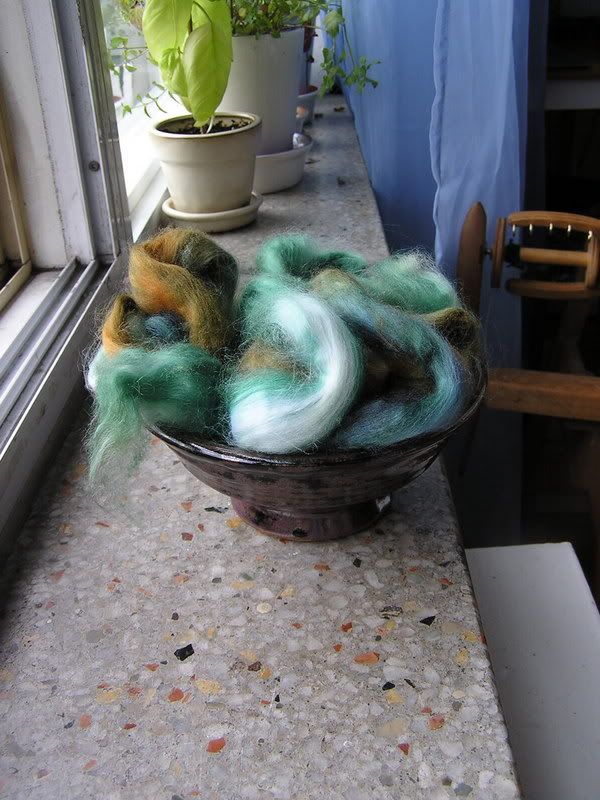 And as luck would have it, the day they left, the humidity dropped significantly enough for me to pick up my brand new spindle and give it a whorl. It was fun to spin, less hairy than the Wensleydale-Teeswater that I tackled last, but very very soft with vibrant colours.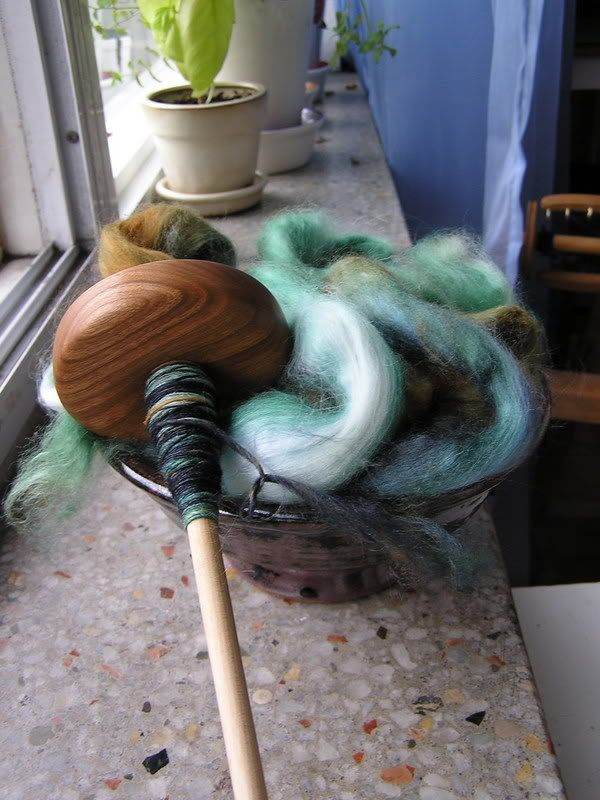 I didn't get too much done, just enough to get a taste for it again. This spindle spins like nobody's business! Took some getting used to, I had to up the hand-eye coordination quotient.
Something else I have been working away at is sewing. I picked this summery cotton twill ( I think) out with FabricFan when she was here and am attempting to tackle it on my own.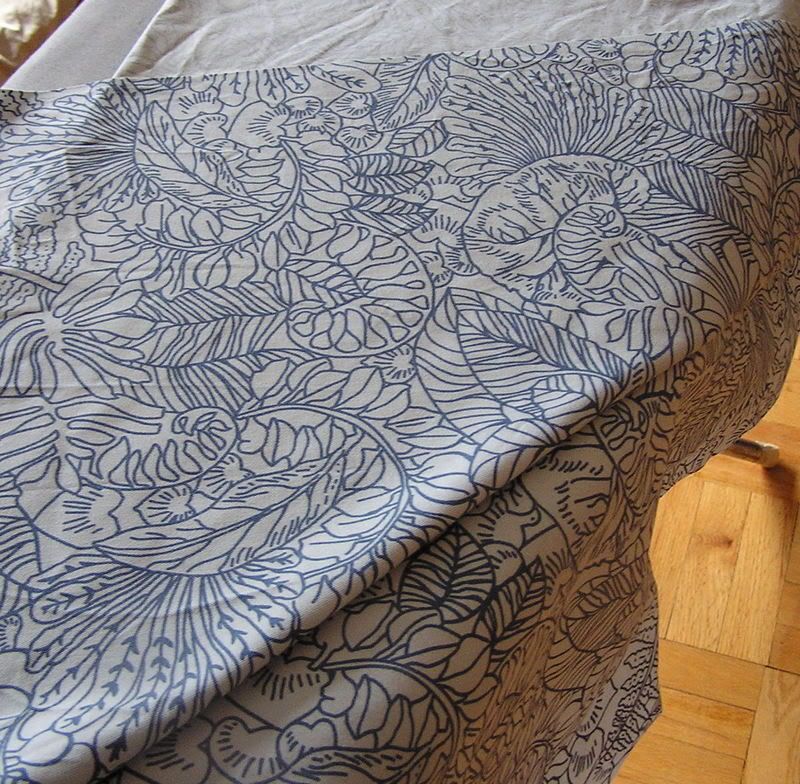 Armed with my new
Stylish Skirts
book, my
Vogue Sewing Quick Reference
, and my speeddial, I am turning two yards of fabric into a cute zippered, fitted skirt with four pleats. This has been a slow process so far. I managed to wash, iron, fold, and press the yardage, then cut out one piece before I realized that I needed some way to actually get the pattern lines onto the wrong side of the fabric. I somehow managed to accumulate three tracing wheels without actually knowing how they were used. A phone call to my mother sent me to Fabricland where I became the proud owner of tracing paper (so smudgy!), dressmaker's chalk pencils, and a year's membership. For some reason, this seems like a much steeper learning curve than knitting.
One interesting difference in sewing versus knitting is the yardage... with knitting you can always joing on another ball, but with sewing the fabric has to obviously be continuous. When we were buying the fabric for this skirt, Fabricfan and the cutting table girl had a great debate over whether I needed 1.5 yards or 1.75 yards. I said to just give me an even two, and they both looked so surprised! The fabric was only 4 bucks a yard, and I can't see how it would hurt to have a little more than I need. I wonder if this is a result of me being a knitter first?
And finally, a shout out to
Bertha
, who named Adriana and me 'Rocking Girl Bloggers'.

I have swayed more than rocked in the last few weeks, but Bertha seems to be one of those superwomen who work, knit, AND manage to make and raise one of the cutest babies in Blogland (Sorry your gums hurt, June! You looked SO MAD in your latest picture...), so I am very very puffed up that she nominated us. Thanks Bertha! I am sure that June's teeth will be as cute and formindable as June herself.
Ciao everyone... wish me low humidity and high energy levels!